Ensure® Recipes for Healthy Living
Difficult? Think again. Try these great-tasting Ensure® recipes developed by the team of dietitians at Abbott Nutrition. From protein shakes to main dishes, good nutrition has never been easier. Happy cooking!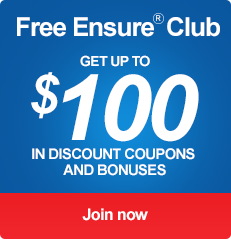 Browse Recipes By Categorie
BREAKFAST
Start the day off on the right foot with these wholesome morning recipes!
Breakfast Recipes
MAIN DISHES
Incorporating good nutrition into your meals has never been easier with this great selection of savoury recipes!
Main Dish Recipes
DRINKS
Whip up these nutritious and delicious shakes up in no time for on-the-go and complete nutrition when you need it.
Drink Recipes
DESSERTS
Indulge in these succulent and nutritious desserts that are sure to please any sweet tooth!
Dessert Recipes
Copyright © 2011 Abbott Laboratories, Limited. Saint-Laurent, Québec, Canada. All Rights Reserved.