Are you in a store right now?
Find out which product is best suited to your needs.
Browse our products
Supporting your medical needs
When you need help to gain or maintain weight, Ensure® Plus Calories provides 50% more calories and protein than Ensure® Regular. It is a great option if you have a small appetite, have increased needs due to a medical condition, or are recovering from illness. Ensure® Plus Calories can be taken as a supplement between or with meals, or as a meal replacement.
Serving tips
Ensure® tastes best when chilled.

Alternate flavours for variety.

Add extracts/essences such as vanilla, almond, nutmeg, lemon, orange, cinnamon, coconut, or chocolate.

Use in cereal or oatmeal.

Take with medication† for extra nutrition and protein.

Drink through a straw.
Ensure® Plus Calories Chocolate Fudge Recipe
Our famous fudge recipe! You can't go wrong, especially with the added protein from the Ensure® Plus Calories and walnuts.
Recovering from surgery
Even if you think you are eating enough following surgery, you might not. Why? Because your body requires extra energy and nutrients to recover.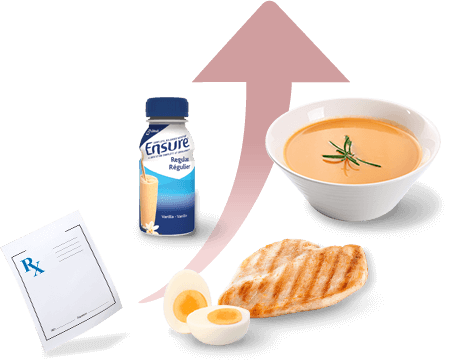 Sign up & save
Sign up to the Ensure® Club and get up to $100 in coupons, meal plans, recipes, and tips on using Ensure®!