Our busy lifestyles keep us on the go. Whether it's at work, home or the gym, we need the strength and energy to do it all. That's why it's important to fuel our bodies with the right amount of nutrients. Protein helps build and maintain strong muscles and antibodies. Muscles need nutrients for energy, and including high quality protein in your diet is key to refuelling your muscles.
Getting enough protein can be a challenge. Check out our tips and tricks to see where you can add protein to your day!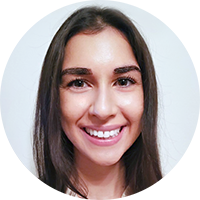 Samantha Morielli, RD, Dietitian at Abbott Nutrition
MEET ME QUARTER WAY
Adults need 0.8 g of protein per kg of their own body weight per day, so aim for ¼ of your plate to be protein foods such as chicken, fish or meat alternatives. If you need a convenient option, Ensure® is a source of protein too.
GO GREEN
Plant based options are not only good for the environment, but for your health as well. Try including tofu, beans, or legumes with your next meal.
IT'S ALL IN THE ACCESSORIES
Take your plate to the next level! Try adding high protein toppings to your meals. For example, you can add nuts and seeds to yogurt or roasted chickpeas to salads.
SAY CHEESE!
Cheese is not only a good source of protein, but also contains calcium and vitamin D.
PUT POST-WORKOUT PROTEIN IN REACH
Ensure® Protein Max 30 g is an excellent and convenient source of protein, which builds and maintains muscle mass. Find out where you can buy it here!