Our busy lifestyles keep us on the go. Whether we're at work, home or the gym, we need strength and energy to do it all. That's why it's important to fuel our bodies with the right balance of nutrients. Protein helps build and maintain strong muscles and antibodies. Muscles need nutrients for energy, and high-quality protein plays a role in refuelling your muscles.
Getting enough protein can be a challenge. Check out our tips and tricks for how to get more protein in your diet!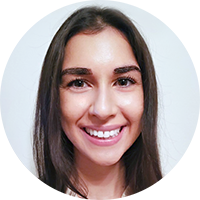 Samantha Morielli, RD, Dietitian at Abbott Nutrition
WHAT'S FOR BREAKFAST?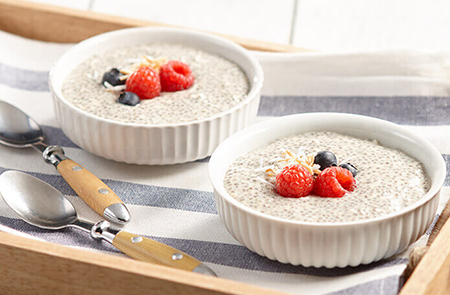 A protein-rich breakfast can help provide the energy you need as you start your day. Try having eggs, Greek yogurt or peanut butter toast for breakfast. If waking up early to make breakfast isn't your thing, prepare our high-protein chia pudding the night before!
VIEW RECIPE
MEET ME QUARTER WAY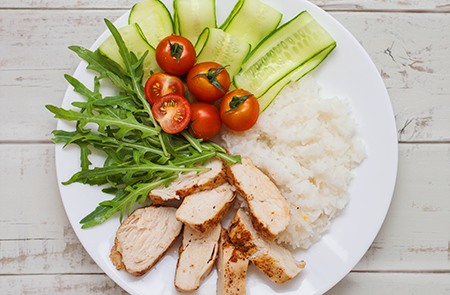 Adults need 0.8 g of protein per kg of their own body weight per day. With this in mind, try to make sure ¼ of your plate consists of protein foods such as chicken, fish or meat alternatives. If you need a convenient option, Ensure® is a source of protein, too.
BUMP UP YOUR RECIPES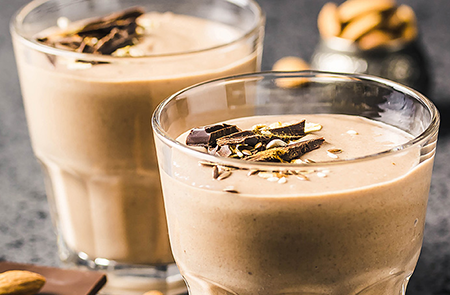 Get help adding protein with Ensure®. The next time you make a smoothie, soup or batch of baked goods, swap out milk for Ensure®. This will add protein as well as vitamins and minerals. Looking for ideas? Try Ensure® High Protein 16 g in this peanut butter cup protein smoothie.
VIEW RECIPE
IT'S ALL IN THE ACCESSORIES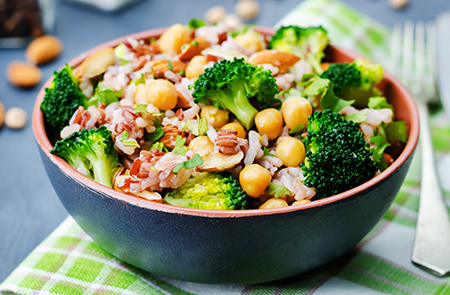 Level-up your plate! Did you know that ¼ cup of almonds provides 8 grams of protein or that
2 tablespoons of pumpkin seeds provide 5 grams of protein1? Try adding protein toppings to your meals. For example, you can add nuts and seeds to yogurt or roasted chickpeas to salads.
SAY CHEESE!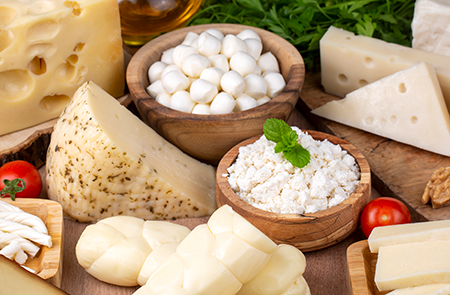 Cheese is not only a source of protein, but it also contains 15 essential nutrients2, including calcium and vitamin D. Calcium aids in the formation and maintenance of bones and teeth, while vitamin D builds and maintains strong bones and teeth. One more reason to smile! Enjoy cheeses that are lower in fat and sodium, like your favorite cheddar or mozzarella.
GO GREEN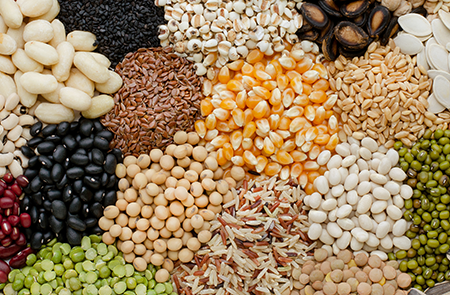 Plant-based options are not only good for the environment, but also for your health. Plant-based proteins provide fibre and are generally low in saturated fat. Fibre helps with digestion, cholesterol levels and heart health. Try including tofu, beans or legumes with your next meal.
PUT POST-WORKOUT PROTEIN IN REACH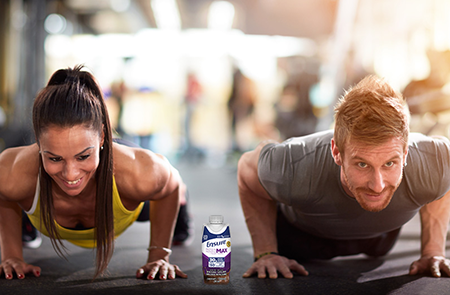 Exercise initiates the breakdown of muscle fibres. Having a protein-rich meal or snack within two hours of physical activity can help stimulate optimal muscle growth and repair3. After your workout, get protein on the go to help build muscle while you recover.
Ensure® Protein Max 30 g is an excellent and convenient source of protein.
SHOP NOW